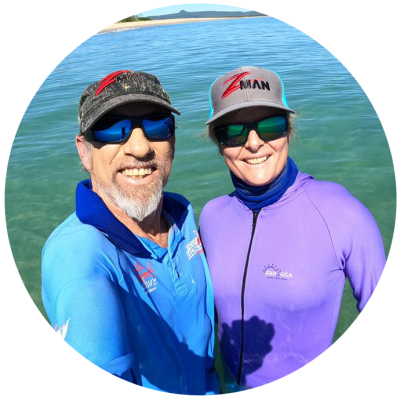 Sun safe solution!
Keen 'fishos', boaters and campers Robbie and Susan Wells were sick of the clothing options available that offered adequate sun protection.
The traditional wet shirt of rashies were too clingy, restrictive, unflattering and so hot when dry. The alternative was the large pocketed cotton fishing type shirt which proved very uncomfortable when wet. "Being an average punter, I wanted a comfortable, stylish, loose-fitting shirt to wear when at the beach, fishing or boating," Robbie said. "I wanted to be able to jump in for a swim, dry off and then stop in to a cafe or shops on the way home."
Eight months, 30 fabrics and countless sunburns later, they have come up with a new generation high performance 144 filament opaque microfibre fabric. It offers 50 UPF UV protection (UVP), can be worn wet or dry and is certified by ARPANSA.
These are the first wet and dry leisure shirts available anywhere. The FishCulture 50 UPF shirt has a fish measurer on the sleeve to check your catch. The other is Sun2Sea 50 outdoor leisure shirt. All are Australian made and offer 50 UPF wet or dry. They are loose-fitting, flattering, won't cling and have seamless underarms.
Take a look at our products page for more information.